NEXT GENERATION:

IIM+

This focus on innovation and an acute awareness that the industry is in a state of transition led to the creation of IIM+ in 2020. IIM+ LIVE Radio and Television is a digital media solutions provider established to research, design and build a unique inflight LIVE Radio and Television over IP delivery solution for airlines. This patented technology addresses a connectivity and supply issue that has troubled the airline industry for more than a decade. Hardware innovations have edged the inflight passenger experience towards one that is dynamic and flexible, featuring access to LIVE Radio and Television. However, connectivity, flexibility and, more importantly, affordability have hampered the ability of airlines to provide their passengers with a broad access to the world's most watched and listened to live events while inflight.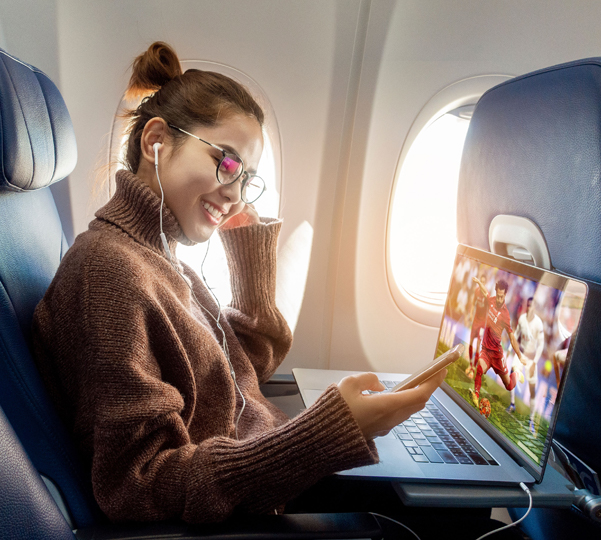 THE FUTURE
IS LIVE
Convenient, flexible and affordable, IIM+ allows passengers to enjoy LIVE Radio and television on their own personal devices at a significantly reduced cost and with no additional investment in hardware and software. IIM+ LIVE Radio and Television is the future of inflight entertainment, the game has changed and we welcome partnerships with the world's leading airlines to provide passengers with the ultimate inflight entertainment experience.
Ong Yong Beng
Ong Yong Beng has more than 15 years of experience in the aviation industry, having held various positions in business development, operations and leadership roles for both the airports and airlines markets. YB was appointed to his current role in September 2018 to lead Images In Motion to greater heights. Images in Motion has supplied inflight entertainment to internationals airlines for more than two decades from offices in Singapore, Beijing, Hong Kong, Europe and Los Angeles. Beng brings with him aviation experience from Panasonic Avionics Corporation, ARINC and Rockwell Collins IMS. He holds a Bachelor of Science in Computing / Information Technology from Monash University – Clayton Australia.
Ong Yong Beng
Christopher Schmidt
Christopher has worked extensively for many years in the media industry. He is the former Media Manager of In-flight Audio Ltd., where he negotiated license agreements for non-theatrical movie exhibitions with US film studios, set-up a dedicated European film distribution unit and also managed product listings for PepsiCo International in conjunction with on-board entertainment subsidization and promotional deals. Christopher was Head of Business Development & Content Licensing for The Yard Broadcast Network in 2000 where he acquired and managed European telecommunication clients and content partners for its unique technology platform. His key focus within IIM+ is the negotiation of agreements and alliances with airlines, hardware companies and inflight connectivity providers worldwide.
Christopher Schmidt
The Management team are supported by an industry experienced Board of Directors and technical staff in office locations in Singapore and the UK.